Our Services
Serving Dent County
Tax Masters is your local tax preparation expert. We have clients across the United States who count on us year-after-year for our dependable services! Begin planning for this year's tax season now! Call us today in Salem, MO at 573-729-3001 with any questions about the following financial and tax services:

* Tax Preparation
* Tax Consulting
* Payroll
* Tax Planning
* Bookkeeping
* Auditing
* Accounting
* Business Planning
* Financial Consulting
* Assessments
* Notary Service
* Power Of Attorney
About Us
Tax Preparation Salem MO
Tax season is just around the corner. Stay ahead of the tax man with the professional tax preparation services offered by Tax Masters. Our federal and state tax services are available to clients nationwide, specializing in corporate tax returns, small business returns, personal tax returns, partnerships, and more. Don't be a slave to the IRS, come to see the Tax Masters!

Our tax services cover a wide range of needs, from tax consulting and tax planning to tax preparation services, tax form completion, fuel taxes, and more. Along with our comprehensive tax preparation services, we also offer an array of services to keep your finances in order throughout the year. Our financial planning services include payroll services, bookkeeping, auditing, accounting, business planning, financial consulting, and power of attorney rights.

Here at Tax Masters, our clients get to know us and return to us year-after-year. We provide the most dependable financial planning and tax preparation services at competitive rates. With over 41 years of experience, you can trust your finances will be in the best hands. Visit our website to fill out a convenient online contact form or call us today in Salem, MO at 573-729-3001!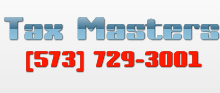 Tax Preparation Salem MO
---
https://taxpreparationsalem.com
Payment Methods
Mastercard, VISA, Discover, Cash, Checking Account